What is the Role of AI in Trucking?
AI in the trucking industry–a huge game changer for trucking carriers. Understand how!
Artificial intelligence is among the most talked about topics in numerous industries. It is making a significant stride in several sectors and trucking is no exception. AI in the transportation industry is projected to grow between 2017 to 2030 by an annual rate of 18%. By 2030, its size will expand from $1.2 billion to $10.3 billion.
AI is driving innovation and efficiency in the trucking industry. With the rapid development of AI-powered logistics, autonomous trucks, and smart transportation, it can be seen that the future of the trucking industry is being shaped by top-notch technologies.
The transportation industry is continuously evolving over the period of time. The volume of freight carried by truckers in the US was 11.84 billion tons in 2019 which is the largest and most considerable moved value in history. Over the years, the transport industry is become more reliable, efficient, faster, and safer. The implementation of AI is giving a new definition to the trucking industry altogether.
In this post, we will walk you through the different ways artificial intelligence is reshaping the trucking industry and the challenges in implementing it.
Let's begin!
Artificial Intelligence in Trucking: Revolutionizing the Industry with 7 Cutting-edge Innovations
As of April 2023,  more than 750,000 motor carriers in the US are active drivers who either lease or own trucks, and over 7.95 million people work in the industry. This figure shows trucking industry is already in a great position to benefit from artificial intelligence technology. 
Big truck manufacturers including Volvo, Daimler, Paccar, and Navistar have already kickstarted developing trucks with high-end AI technology. Many big truck giants including Waymo have started installing driverless technology in semi-trucks. In addition to self-driving, AI greatly benefits truckers in preventing accidents on the road, making their vehicles fuel efficient, helping them optimize routes, and managing their workflow. 
Here are the 7 cutting-edge AI innovations that benefit the trucking industry to a great extent.
AI-powered Logistics to Streamline Supply Chain
AI-powered logistics solutions are greatly streamlining supply chain management. This technology is driving considerable improvements in supply chain efficiency. With the help of data analytics and machine learning algorithms, trucking companies can optimize their scheduling, predict likely issues before their occurrence, and track their cargo in real time.
These technologies enable business owners to make data-driven decisions and fully automate the most complex process. As a result, operational costs will be reduced, profitability will be increased, and customers will be more satisfied.
Integrating AI systems into trucking greatly helps you in efficiently assigning the delivery to the right person. If you fail to delegate the amount of loads to the right drivers, your cargo delivery will not be delivered on time which negatively impacts customer satisfaction.
AI improves logistics by accurately doing the load match. Using this tech, you can avoid overworking and avoid bad routes which improve the overall process.
Autonomous Trucks For Improved Safety
Also known as self-driving cars, autonomous vehicles are already on the verge of development and testing. Many leading truck manufacturers around the world including Tesla and BMW are developing autonomous vehicles. Waymo is an American company that has already installed self-driving technology in semi trucks and has tested them in routes of Texas and New Mexico. 
This could be possible because of artificial intelligence technology. Using AI, cameras, and sensors, trucks, and vehicles will soon be able to carry freight and passengers without needing a driver. Self-driving vehicles are revolutionizing the transport industry by improving road safety, reducing driver fatigue, and increasing fuel efficiency.
According to Gerber Injury Law research, the production of driverless vehicles will reach 8,00,000 across the world between 2023 to 2030. The KPMG has predicted that more adoption of self-driven vehicles would minimize the rate of accidents by 90%.
AI-powered Fleet management for Enhanced Output
AI-powered management systems are completely revolutionizing the management style of trucking companies. With the implementation and usage of machine learning algorithms, systems can monitor the performance of drivers, predict the maintenance needs of vehicles, and optimize routes to reduce downtime and maximize output.
Trucking companies that use AI-powered fleet management solutions in their system can experience maximum productivity, minimum maintenance outlays, and enhanced overall performance.
AI technology streamlines the trucking processes and makes them more efficient. For instance, these cutting-edge technologies can detect potential human misses and highlight the driver's name who can handle certain loads efficiently, and who cannot.
AI-Driven Transportation for Fuel Efficiency
An average commercial truck needs approximately $70,000 of fuel each year to operate seamlessly. If you own multiple fleets then multiply this amount with the exact number and don't forget to factor in your truck insurance which is already a huge expense for a company. That is why many trucking companies look for actionable strategies to improve fuel efficiency.
Not anymore as AI-powered self-driven trucks can help you cut the fuel cost drastically. Truckers can save up to 15% of the total cost of fuel with the implementation of AI technology. A recent report has shown that the trucking industry can save $35 billion in fuel costs with AI solutions.
With the help of idle reporting, rerouting, and fuel monitoring features, fleet managers can monitor fuel and minimize the overall cost.
AI-Driven Route Optimization For Timely Deliveries
Route optimization greatly benefits from AI technologies. It streamlines the optimization of different driving routes and minimizes mileage and drive time. It enables drivers and fleet managers to look for the most efficient and faster methods to schedule hauls and stops during operative hours.
AI can easily process the pattern of traffic and use its top-notch algorithm to predict potential delays. It also notifies drivers and managers of rerouting and facilitates load reschedules.
AI-powered technology tells real-time data about the traffic on the roads, condition of weather, and other data to provide accurate ETAs (estimated time of arrival). As AI constantly evolves, its ability to optimize routes will also become more efficient and streamlined in the future.
Data Protection and Cybersecurity with AI
Protection of your client's data is critical. Therefore, you need to have a solution that shields your operations from likely cyber threats. AI-powered cybersecurity systems can greatly help you protect all sensitive data. It detects potential vulnerabilities and provides a reliable transportation network. This not only ensures the safety of data but also increases your credibility among your customers.
With AI-driven cybersecurity tools you can easily determine and prevent potential cyber attacks in real-time. It enables you to identify and predict threats that can damage your business reputation and cause clients data loss. You can automate the response to incidents and their remediation with AI.
Machine Learning for Accurate and Fast Decision-Making
Machine learning algorithms are widely implemented and used in the trucking industry. It analyzes a large set of data and offers valuable insights to the managers and drivers to predict patterns and determine likely bottlenecks. This helps them to optimize the allocation of resources and make faster and more efficient decisions.
AI-based route optimization helps in predicting the most effective route that ensures timely deliveries of shipments and minimizes the cost of transportation. Adopting AI in trucking helps companies to easily adapt to the evolving changes in the market, improve their operations consistently, and stay ahead of the competition.
Now you have understood the role of artificial intelligence in the trucking industry. Let us take a quick look at the challenges that come with adopting AI technologies in trucking operations. 
Want to insure your fleets? Get free truck insurance quote now.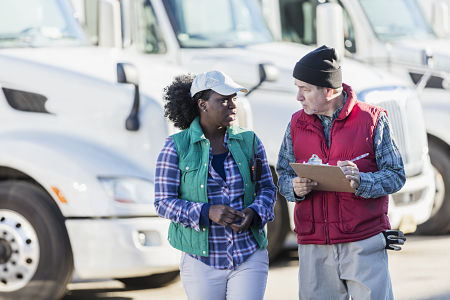 Top Challenges of Adopting Artificial Intelligence in the Trucking Industry
Although artificial intelligence proves beneficial for trucking companies, there are a few challenges when you think about implementing this cutting-edge technology into your operations.
There is no doubt that AI technology is expensive. Other than the cost of AI systems, when it comes to integration the real challenge begins. As all these systems are customized and not computer-based software or hardware, their implementation is quite difficult.
Artificial intelligence is made up of numerous independent systems that need to be installed and integrated together to work as expected. It includes:
Hardware
As an artificial intelligence system needs extensive bandwidth to power the system, it is usually cloud-based. Many AI providers utilize specialized hardware to access the system. As a result, the cost of AI-specific hardware initially can be big for many truckers and companies.
Scalability Factor
Almost every cloud-based and AI systems are scalable which is counted as among the best features for transportation businesses. However, the catch is, that a few AI systems need a huge level of initial startup systems or users to churn out the expected results.
Since this technology is unique, truckers need to discuss it in detail with AI service providers.
Training Cost
Like any other new technology, your drivers, fleet managers, and other employees need to get training to learn AI and its features. This training can cost you money and time. Not only this, the time you devote to learning can make your business less efficient during those training hours.
Trucking companies need to work with credible AI providers to make training impactful and affordable, especially during the integration phase.
Operational Cost
AI-operated systems have a network of specific relays, processers, and other components. Additionally, each of these parts needs a periodic replacement to maintain operation integrity. The issue is maintaining these AI parts can be expensive. Components like computer chips are made up of selenium which is rare.
AI systems need continuous updates which can also include the replacement of batteries. These systems also require a huge amount of energy for proper operation. If a trucking company wants to use self-driving AI technology, it would increase the operational time as well. This can also amplify utility bills which can impact overhead outlays of running these solutions properly.
Fewer Jobs
With more adoption of artificial intelligence tech like autonomous trucks which don't need a driver to operate, the demand for the workforce would significantly reduce. Automation of systems can throw drivers out of jobs.
When the integration of AI solutions eliminates the need for drivers and other personnel, trucking companies would either release current employees or find suitable positions for them. So, companies need to analyze this challenge before implementing AI systems.
Frequently Asked Questions
How is AI improving the transportation industry?
AI is improving the transportation industry in several ways. Improving driver experiences and helping them operate efficiently, extracting key data fields from customer docs and communication, and feeding them into the decision process are among the major benefits of using AI in trucking.
What are the positives of using AI in the transportation industry?
AI has many positive impacts on the trucking industry including consuming larger data in a short period, quick decision-making with minimal errors, less repetitive tasks, etc.
Can artificial intelligence replace truck drivers?
AI will not replace truck drivers as they will continue delivering different types of shipments from one point to another. However, it will help them to make their operations better via automated ETA (estimated time of arrival), creating a smooth delivery process, assessing the best routes, etc.
What are the drawbacks of using AI in the transportation industry?
Like any other new technology. AI includes some drawbacks too. The major issue that truckers would face with an AI is the difficulty of understanding it and how it made a particular decision.
What is the use of AI in logistics?
Predicting the demand for the product and planning the process can help in improving service, saving money, and minimizing the cost of transportation. AI can also enable modifying orders and rerouting products in the local warehouse.
What is AI in the trucking industry?
AI in the trucking industry means improving major parts of the process to make it more efficient. For example, assigning heavy loads to the wrong driver or tired dispatcher can lead to mistakes. Here, AI technology solves this problem by automating the entire load-matching process.
What are the advantages of AI in road safety for truckers?
Although AI offers great benefits to truckers during their operative hours, AI-based features like blind-spot detection that uses cameras and sensors to detect other approaching vehicles can be a great safety feature that alerts them via audio or visual warnings.
End Note
Artificial intelligence has already started delivering results to the trucking sector in terms of great safety on roads, sustainability, reliability, and increased productivity. The revolution of AI in the trucking industry will not only drive efficiency but also have a positive impact on fleet management, increasing fuel efficiency, traffic management, and much more.
Many speculate that the implementation of AI solutions will eat up truckers' jobs. However, this is not true because AI itself needs human knowledge to comprehend the course of action.
AI will not replace the drivers but it will improve the trucking process and reshape their roles for the better!