Why Do Truckers Need General Liability Insurance?
If you are planning to start a trucking company or already have one, you are must aware this business comes with a reasonable share of risks. Accidents are inevitable regardless of how vigilant or cautious you are on the road. If you want to protect your livelihood, you need general liability insurance.
High risks are proportionate to high profits. Trucking is undeniably a profitable business. However, the smallest accident can deeply dent your business reputation. As a result, you get fewer contracts and the survival of your business becomes highly dubious.
Losing business is the biggest nightmare for any trucker. While you have no control over the unexpected, you can shield yourself from the unending financial obligations that tag along with an accident. To explore more about this coverage, go through this post to learn everything about the general liability policy.
What is general liability insurance for truckers?
General liability coverage is a type of coverage that protects against bodily injuries and property damages occurring in an accident. It is similar to your auto liability insurance which pays for the damages to the other party in an accident. This policy pays for the truck repairs, medical bills, property damage, and legal charges in case you get sued by a third party.
These overheads can result from a failure of delivery on the employee's end like damages that occurred while offloading/unloading the truck, injuring someone after dropping heavy equipment, or attorney fees after a lawsuit.
What is covered under general Liability insurance?
These are some of the incidents or losses that general liability coverage offers coverage for:
Bodily injuries
Property damage.
Damages while the loading/offloading of the shipment.
Legal charges if you get sued by a third party after experiencing any or all of the above incidents.
Copyright violation claims if someone accuses you of using ads or promotions without his/her consent.
Reputational harm (can go beyond $50,000).
Defamation charges.
Although each insurance policy protects incidents according to its terms and coverages. But the aforementioned occurrences are covered by a common general liability coverage.
What is 'NOT' covered under general liability insurance?
Like any other commercial truck insurance, general liability coverage also comprises some exclusions as follows:
Own property loss and employee physical injuries.
Theft or damage to business property.
Intentional fault leading to loss.
Illegal acts.
Deliberate wrongdoings of staff.
What is the advantage of general liability insurance?
If you take the right amount of general liability coverage, this policy offers the following advantages:
Protects you against a number of financial obligations.
Help you land more contracts.
Offers peace of mind.
Protects employee actions.
Pays for the costly medical bills.
Safeguard you against unforeseen events.
Keep your business reputation intact.
Although carrying this coverage is not a legal requirement in most states, it protects you against innumerable liabilities. General liability insurance coverage for small businesses is a good idea because even the minutest incident can massively affect small-scale trucking businesses.
You can work with us and get the best general liability insurance for small businesses.
What type of businesses gets benefited from general liability insurance?
General liability coverage proves to be beneficial for the following businesses and individuals:
Small business owners
Consultants
Real estate agents
IT contractors
Marketing agencies
Artisan contractors
Landscaping companies
Janitorial services like a caretaker, doorkeeper, watchman, warden, maintenance man, etc.
Why do truckers need general liability Insurance?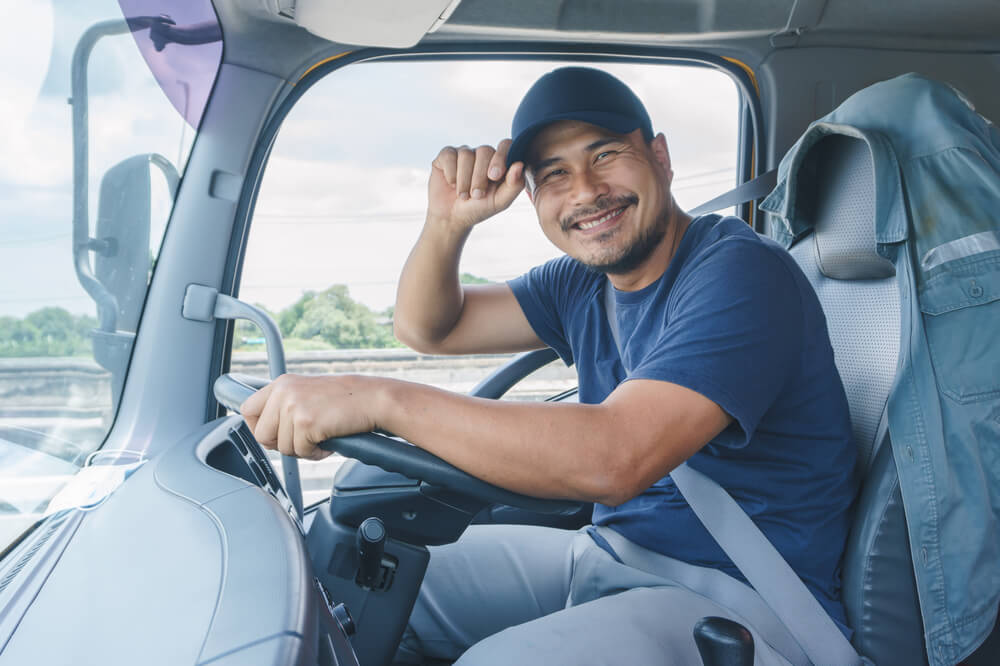 One of the biggest reasons why you require to have general liability coverage is the financial cushion that comes along. Damages whether big or small need money to rectify errors done from your end and bring your commercial trucks back in shape and fully operative.
The cost of repairing heavy trucks and medical expenses doesn't come cheap. Accidents can lead to physical injuries or even the death of a person. This can lead to lawsuits as well.
To cover the cost of damages that you or the driver might have caused, you need general liability coverage. This policy pays for the heavy losses that are capable of impairing your finances.
Few scenarios where a trucker needs general liability coverage
Here are a few situations where general liability coverage comes into play:
Operating under customer's premises.
Loading and offloading the shipment using labor or mechanical device.
Inaccurate or damaged shipment delivery.
Defamation and slander exposures.
Bodily injury and property damage resulting from own fault.
Drunk employees hit the vehicle.
Negligent hiring of drivers who causes accidents.
A lawsuit followed by the incident.
Truck repair leading to brake failure or other parts equipment crash.
Property damage to protect persons or property on the road.
Fire causing property damage.
You can contact us to determine adequate coverage for your operations.
What is the cost of general liability insurance?
The average cost for general liability insurance varies from $3600 to $7200 annually for a trucker. If your business involves high risk, expect to pay higher premiums for this coverage.
Most trucking companies take $500000 general liability coverage. Your actual requirement depends on the following factors:
Size of the business.
Type of operations.
Risk exposure.
Limits of required coverages and deductibles.
Claim history.
Is general liability insurance mandatory?
No, this coverage is not law mandated. However, the general liability policy is not only a beneficial coverage to carry but is also required by DOT (US Department of Transportation). The actual regulations depend on a number of factors like the type and weight of the truck. You can visit our blog to learn more about the DOT number and its requirements.
There are many situations on the road that can put a flourishing trucking business on long hiatus. As a trucker, you should be aware of those likely events. Even if you think you don't require this coverage, it is always a good idea to have this policy in place.
What happens if a trucker 'Does Not' carry general liability insurance?
General liability comes into play when an individual or business claims property loss or bodily injury on your trucking business.
For truckers, general liability coverage covers several things that are not generally covered under a commercial auto policy. Since the size of the truck is massive, it causes massive damages in an accident that range from a few dollars to a whopping million figure for the claim.
Legal settlements and lawyers' fees are so expensive that these can bankrupt any trucker or business. Legal counseling per hour costs over $100. If the claim reaches the court, the amount can cross $75000. Even if the third party drops the charges, you will require to spend a huge amount.
Without an adequate general liability policy, you won't be able to pay the entire amount and will end up draining your funds.
To get affordable general liability coverage quotes, get in touch with our agents today.
What is commercial general liability insurance?
A commercial general liability policy (CGL) is a comprehensive general liability insurance that protects the business against damage and injury while operating to other parties on/off the premises.
For instance, one of your employees visits a resident to get the electric wiring done and ends up firing the house accidentally. General liability insurance for independent contractors also covers the expenses of a lawsuit by a third party. It also covers you against claims of defamation or advertising injury.
However, like any other insurance, the commercial general liability policy has a few exclusions that should be thoroughly checked in the agreement. Such as intentional damages or expected damages occurring due to business work, pollution, etc.
If your business operates under risky circumstances like the movement of hazardous or toxic material, consider purchasing additional coverage like hazmat insurance for the complete safety of operations.
The cost of CGL depends on the amount of risk exposure, the size of the business, and the level of coverage. However, if you take this coverage it will cost you between $300 and $600 million. This amount can jump to $1000 depending on the aforementioned factors.
Types of coverages that work best with a general liability policy
As general liability coverage is a policy that most truckers need, most drivers would also want this coverage to be clubbed with:
Cargo insurance: In case, the load that your truck carries gets damaged due to fire, explosion, theft, vandalism, etc, this insurance coverage pays for the loss suffered. This policy also covers the damages happening due to extreme weather conditions and natural calamities.
Physical damage insurance: This policy pays for the damages and repair charges you suffer when your commercial vehicle (one or multiple) is impacted by accident.
Bobtail insurance: Your truck is still vulnerable to risks when it operates without a trailer. When you suffer any loss while traveling from Point A to Point B to pick shipment or off-dispatch, Bobtail insurance kicks in.
Frequently Asked Questions
What is the purpose of commercial general liability (CGL) insurance?
The key purpose of CGL is to protect business owners from claims of property damage and bodily injury while operating on/off the premises. This policy also covers you when other businesses or individuals sue you for stealing advertisement ideas or defamation.
What is an example of a general liability policy?
For instance, if your truck causes an accident and the party who is injured sues you for $1 million for their expense and lost income. If your general liability coverage has a limit of $600,000, you will only pay the rest of $400,000.
Is general liability the same as a liability?
General liability covers property damage and physical injuries. Whereas liability insurance protects the owner against more intangible dangers like errors and slipups in their own services.
Why do you need a general liability policy?
The general liability policy covers bodily injuries and property damage occurring in an accident. These expenses can be costly to cover, especially for small trucking operations. So, it is a good idea to have this cover for smooth trucking.
What does comprehensive general liability insurance cover?
Comprehensive general liability covers the insured against property damage and bodily injury to a third party happening on-premises and on-the-road operations.
Does the general liability policy cover your own losses?
No, general liability does not cover own truck damages or drivers' medical expenses. This policy protects you against third-party injuries and damages only.
Endnote
No matter how precautious you are on the road. You know that trucks are prone to accidents and capable of causing colossal damage, so staying prepared with the right general liability insurance is a smart financial move.
You can work with us and determine your actual coverage requirement. We will customize a well-rounded policy that would cover all the exposed risks that your business operations face regularly.
We will help you gain the peace of mind that you really need as a trucker. This way you can focus more on core business activities rather than worrying over a potential mishap.