How much insurance do I need for a trucking company?
Running a trucking business carries a potential risk in and of itself. According to a report of the FMCSA, in 2020, 415,000 crash reports involving heavy trucks were registered in the police station, out of which 4,444 were fatal crashes and the rest were bodily injuries. And there are more disturbing stats, but we believe that you got the idea.
So, if you are an independent truck driver, the owner-operator of a fleet of trucks, or planning to enter the transportation industry, you must have an adequate commercial truck business before your trucks ply on the road.
However, the term "adequate truck insurance" comes along with the question "What type of insurance and how much truck insurance does your trucking company need?".
As the requirements vary from one trucking company to another, it is best to not compare your trucking policies with those of other operators and arm yourself with the right knowledge to secure your business from unfortunate future financial losses.
In this blog, we have got everything covered for you, including:
What type of insurance does your trucking business need?
How much insurance do you need for your trucking company?
So, let's dive into them.
What is commercial truck insurance?
A commercial truck insurance policy, also known as a motor carrier policy, is a curated group of insurance policies for the transportation industry to cover the owner-operator from any unforeseen accidental losses.
These policies start with primary liability, physical damage, and cargo coverage and go a long way by adding additional coverages as per one's needs.
Unlike traditional policies, the MC coverage matches the ever-changing needs of the trucking industry and safeguards all types of carriers, including private, for-hire, and a combination of these two.
Let's have a quick look at what basic truck insurance policies cover in the event of an accident:
Medical bills for bodily injuries of a third party.
Lawsuit fees in case a third party sues you.
Fixing or replacing bills for property damaged by your truck.
Cost of damage done by your truck at the delivery location.
Protects against any false advertising, libel, slander, or copyright infringement lawsuits.
Want to insure your fleets? Get free truck insurance quote now.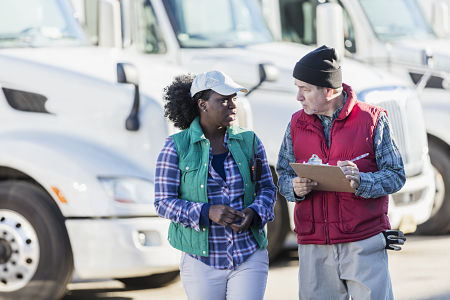 Minimum Truck Insurance Requirements for Interstate Transportation
Based on the cargo the trucks haul and the weight they carry, FMCSA has enacted the following minimum insurance limits for owner-operators who commences inter-state.
$300,000 minimum limits for non-hazardous cargo under 10,001 lbs. weight hauled by motor carriers.
$750,000 minimum limits for non-hazardous cargo over 10,001 lbs. hauled by motor carriers.
$1,000,000 minimum limits for oil cargo hauled by for-hire and private carriers.
$5,000,000 minimum limits for other hazardous cargo hauled by for-hire and private carriers.
So, these are the bare minimum insurance requirements needed by the FMCSA if a trucking company is involved in interstate transportation.
However, some freight carriers are required to have a minimum of $1,000,000 in insurance, regardless of what type of cargo they haul. Moreover, these minimum truck coverages are per accident limits. What does that mean?
Supposing, unfortunately, your truck met with an accident with a family of five and your driver was found guilty for it. And if the collision involves the three casualties of the third party involved and two severe injuries, then your company's minimum insurance limit will be liable to pay for all five members. And you know very well how the medical costs, potential lawsuit fees, and property damage can instantly add up.
Therefore, your minimum liability limit varies with the accident involved.
Truck Driver Insurance: MCS-90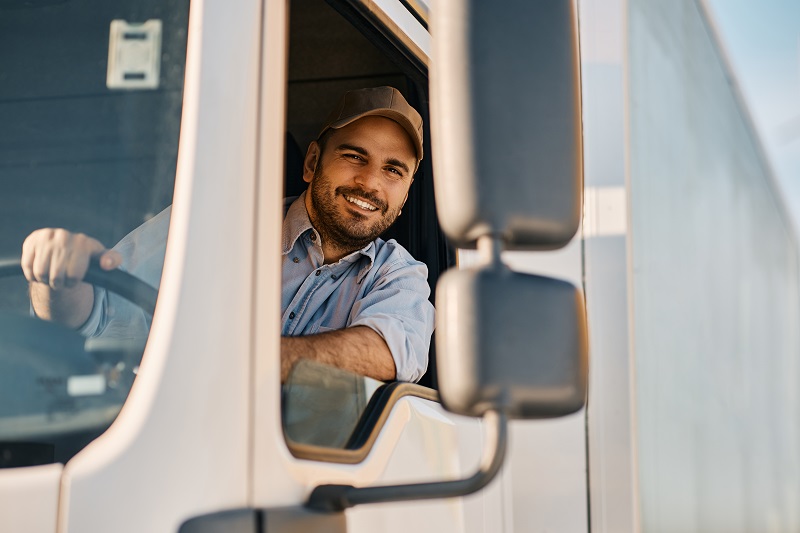 The standardized commercial truck insurance criteria set by the FMCSA before the 1980s were $1,00,000 per accident and $50,000 in the event of any property damage.
To protect motorists from these unforeseen financial losses, the Federal government has mandated a standard MCS-90 endorsement for all kinds of truck carriers who are registered with a USDOT number and involve themselves in interstate transportation. This endorsement form will pay for any casualty or injury due to the negligence of the carrier's operations.
So, whether it is mentioned in written form or not in your insurance policy, it is a must-have as it is directly coming from the government authority.
What is the average cost of commercial truck insurance?
The average cost of commercial truck insurance depends on a lot of factors and also varies with one's requirements. 
For instance, if you are operating trucks under lease, then you will end up paying an approximate price of $3,000 to $6,000. On the other hand, if you are operating under your authority, the price bracket will go straight from $9,000 to $13,000 per truck per year.
Another factor that drives the cost of your truck insurance is the type of coverage you choose. For instance, general liability insurance costs you somewhere between $700 and $7,000 with a coverage limit of $1,000,000. On the other hand, trucking liability insurance costs you around $2,000 to $4,000 with a minimum coverage limit of $750,000 per truck driver. Whereas the physical damage does not have any minimum coverage criteria and entirely depends on your truck's market value.
Therefore, to get the best price, it is advisable to compare the multiple quotes from the insurance companies before jumping to any conclusions.
Factors affecting the cost of commercial truck insurance
The Federal Motor Carrier Safety Administration (FMCSA) requires a minimum level of insurance coverage by trucking companies, which would pay in the event of damage or injuries caused by their trucks. However, the final cost of commercial truck insurance highly influences by the following couple of factors:
Are you transporting intrastate or interstate?
The type of cargo you haul. There are minimum insurance requirements for carrying hazardous and non-hazardous materials.
Your company size i.e. the number of trucks you operate.
Your truck type by weight is light, medium, and heavy.
Drivers' records. Truckers with clean history records aid in lowering the premiums.
Your previous insurance claim records.
Deductible you choose. For instance, a higher deductible lowers your premiums but at the same time increases the out-of-pocket expenses in the case of any accidental claim.
And there are more, like location, amount of coverage, and daily transportation route.
What are the basic coverages required for my trucking business?
Whether your trucks are operating interstate or intrastate, below are the minimum commercial truck insurance policies that will protect your company from any unforeseen financial loss:
General Liability Insurance: This will cover third-party expenses, including bodily injuries, property damage, and legal fees.
Physical Damage: This will pay for your truck's damages in the event of an accident.
Cargo Insurance: This will cover the hazardous and non-hazardous commodities damage as well as liability.
Non-trucking Liability: Provides coverage for the days when you are using your truck for non-business purposes.
Passenger Insurance: This will provide coverage for the co-passenger injuries that were present in the truck during the time of the mishap.
These are the bare minimum coverages that you, as a truck owner-operator, must have. However, the amount of these policies may vary depending on your needs.
Final Words
The fact is that the cost of commercial truck insurance hugely varies with the factors attached to it, including the fleet size of a trucking company, types of policies chosen, coverage limits, your insurance claiming records, types of cargo being hauled, and a lot more. And this is why it can't be stated in exact numbers; however, we have already shared the approximate idea of how much insurance your trucking company will need.
Having said that, the right insurance provider can help you get the best price while providing the best coverage for your business. And at NITIC, we believe in delivering the best insurance services to our customers by being their backbone and providing commercial truck policies at competitive prices and with the fastest claim process.