What are the biggest risks facing the cargo industry? How To Mitigate Them?
The logistics industry plays a crucial role in facilitating the trade from manufacturer to middleman to end user and guaranteeing the success of a company's operations.
However, the ever-changing political and government regulations, environmental issues, rising fuel prices, and unforeseen calamities like COVID-19 or the International War have increased the challenges for freight forwarders in efficiently maintaining and transporting shipments.
There are even more unanticipated risks and challenges associated with the cargo industry, that could severely impact the global economy, which is why identifying and mitigating them is the need of the hour.
For that, supply chain managers will require risk management expertise so that, with those valuable insights, they can assess and handle all the potential risks connected with the shipping activities and seamlessly transit the commodities.
Having said that, we have collected data from the leading industry experts that state the risks facing the cargo industry and provide solutions to mitigate them. In this comprehensive guide, we will be sharing those statistics with you so that your business can stand against unfavorable dynamic circumstances.
So, let's dive into them!
A Glimpse of the U.S. Cargo Industry
The cargo industry in the U.S. is widely connected via different freight transportation channels, including air and inland waterways, sea, rail, and road (via trucks). The size of the United States freight and logistics market is predicted to be 1.27 trillion USD at the end of 2023 and 1.62 trillion USD by 2029, increasing at a CAGR of 4.07% throughout the projected time frame of 2023–2029.
Moreover, the American economy is spanning the continent with global connections, relying on the distribution of more goods in domestic and international markets with the help of different trading partners.
According to the Freight Analysis Framework report by the Bureau of Transportation Statistics (BTS), the approximate tonnage will increase by 1.6% annually between 2023 and 2050.
Below is the weight of cargo (in million tons) shipped via different transportation modes in America in 2023: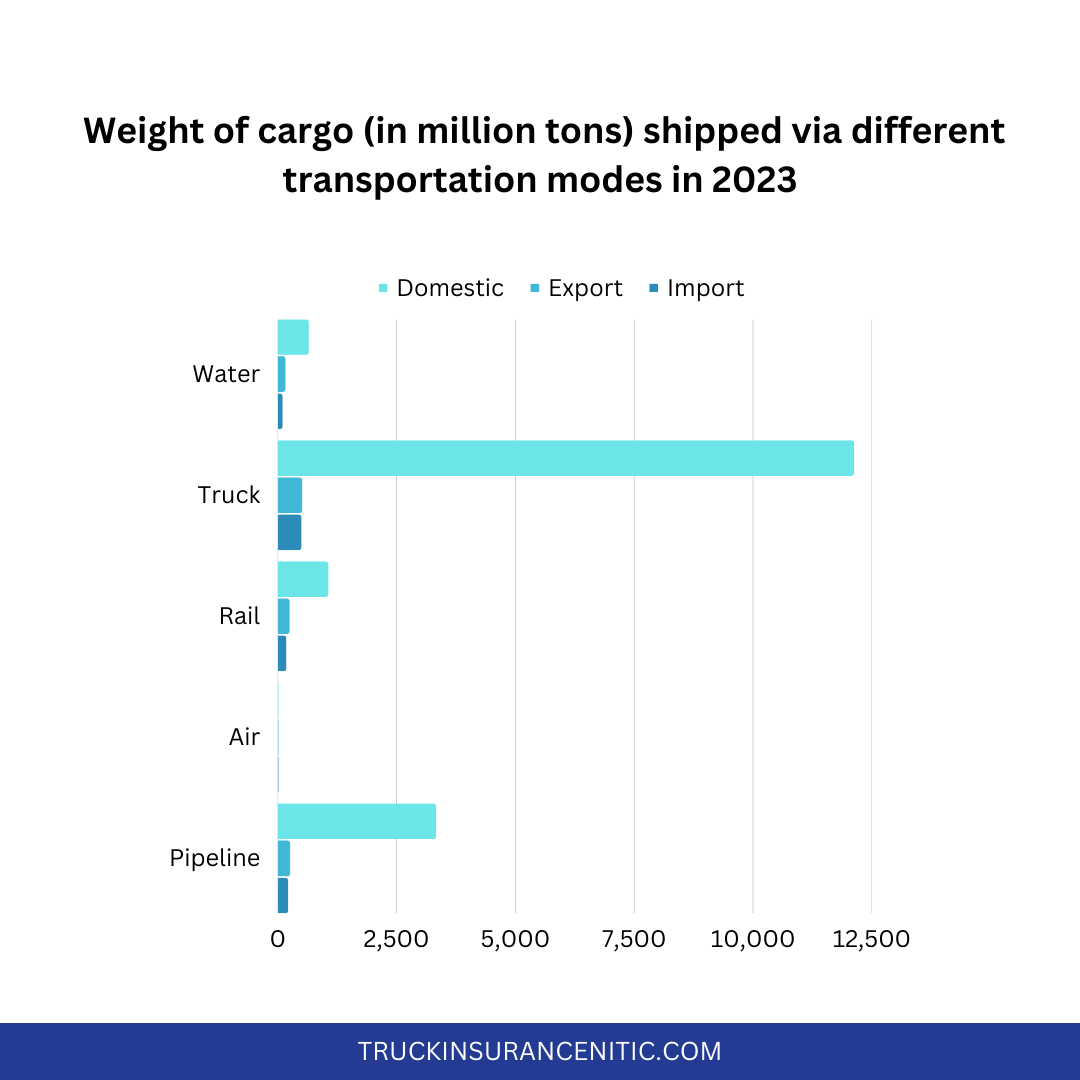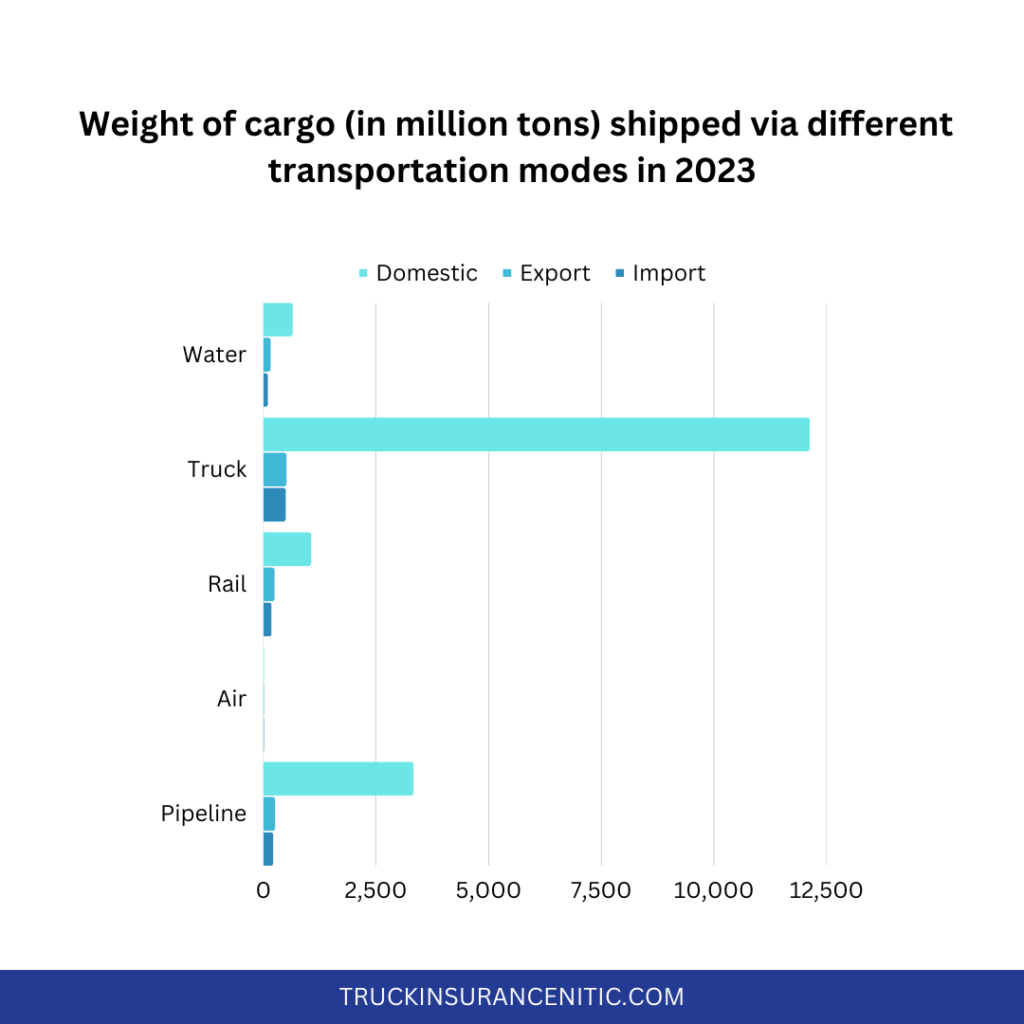 | Mode Name | Domestic | Export  | Import |
| --- | --- | --- | --- |
| Water | 646 | 165 | 103 |
| Truck | 12,122 | 517 | 499 |
| Rail | 1058 | 248 | 183 |
| Air (includes truck-air) | 2 | 2 | 2 |
| Pipeline | 3,326 | 262 | 220 |
Below is the value of cargo (in billion dollars) shipped via different transportation modes in America in 2023: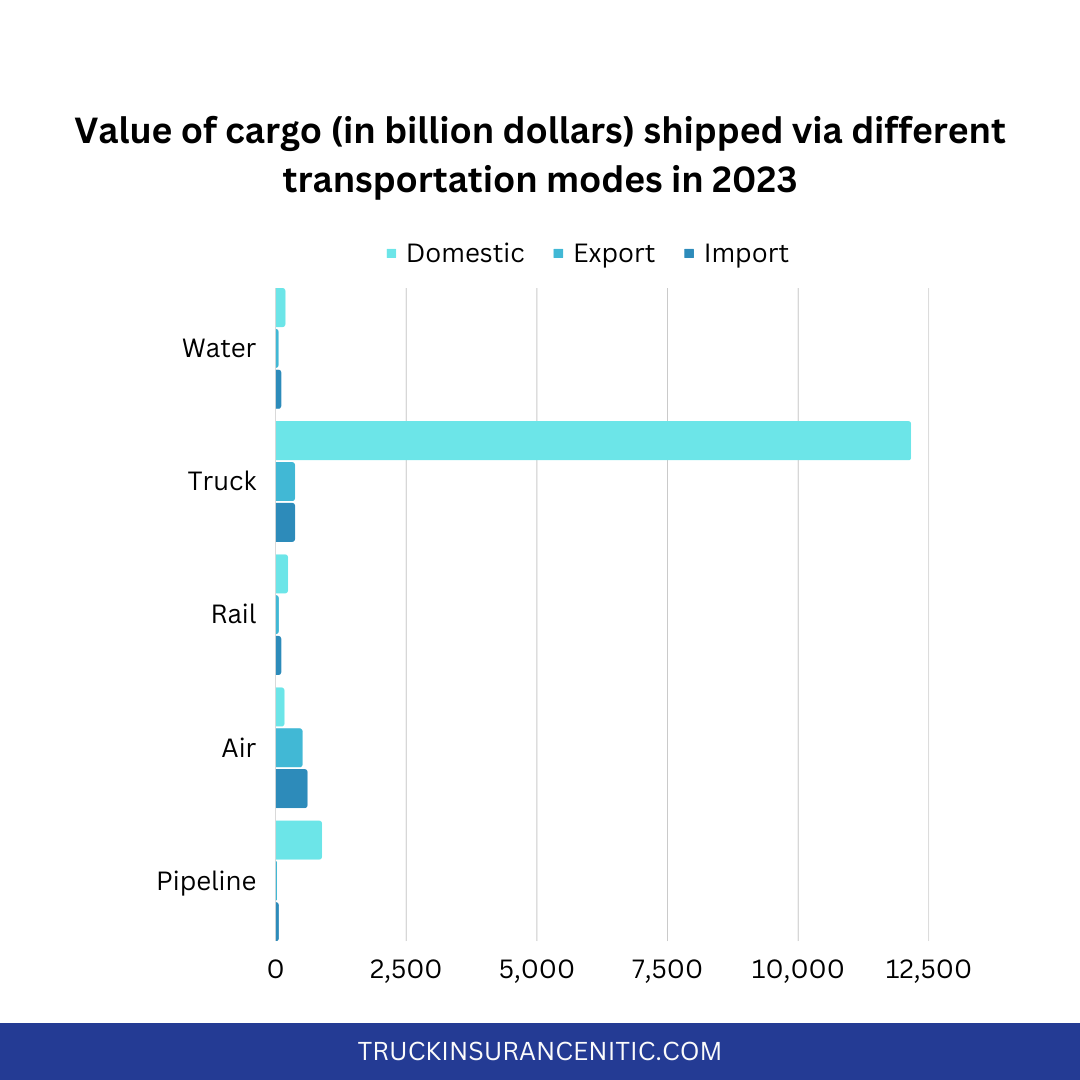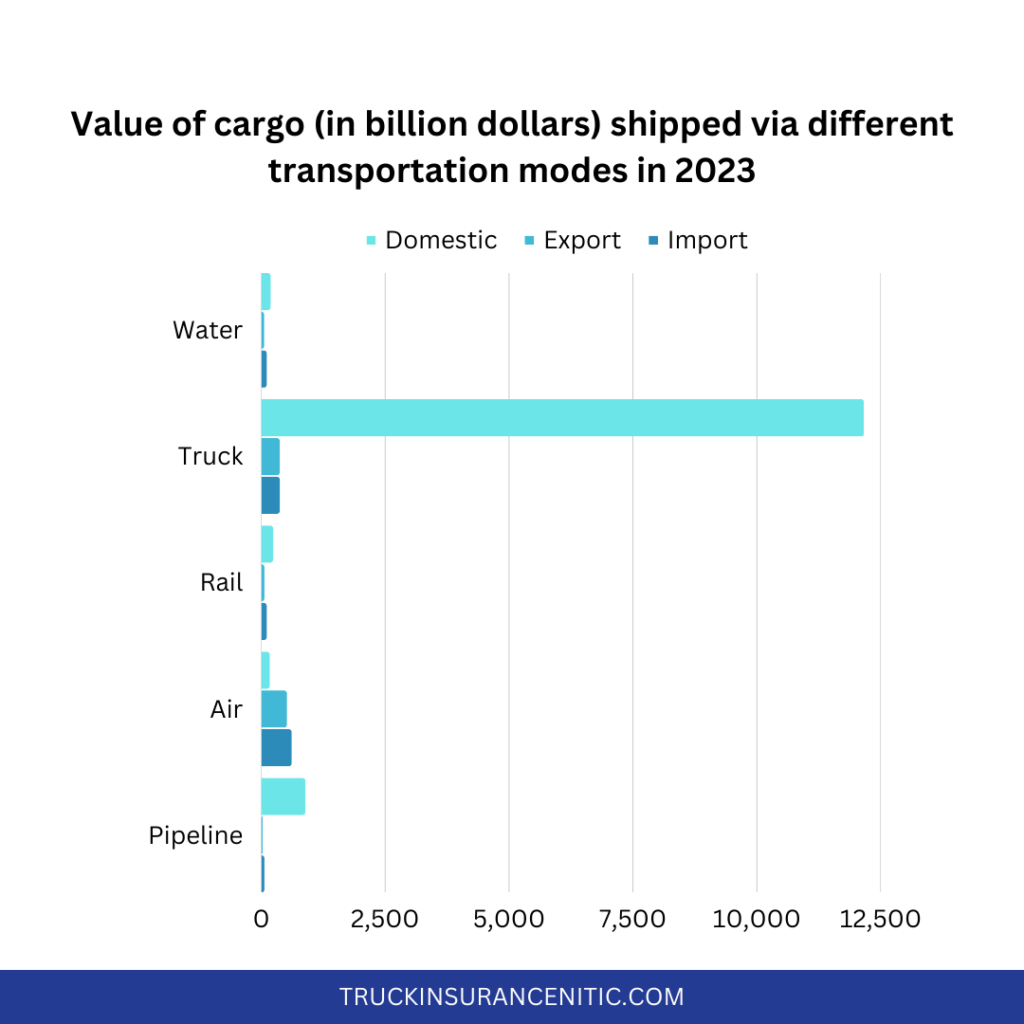 | Mode Name | Domestic | Export  | Import |
| --- | --- | --- | --- |
| Water | 182 | 59 | 106 |
| Truck | 12,157 | 374 | 375 |
| Rail | 233 | 62 | 107 |
| Air (includes truck-air) | 169 | 512 | 607 |
| Pipeline | 884 | 29 | 63 |
Read to learn more about the American trucking industry insights.
The Biggest Challenges Facing the Cargo Industry
Slowdowns and Interruptions
One of the biggest challenges facing the cargo industry is the delay and disruptions in shipment delivery both domestically and internationally. And there are a couple of factors that are contributing to that, such as bad weather conditions, traffic congestion, drivers' unawareness of the transport route, unforeseen accidents, or unexpected events like fracas, strikes, and more.
All these disruptions can have a severe impact on the timely delivery of your order, the customer experience, inventory management, and overall logistics' operational costs. To mitigate any possible danger, you must have a contingency plan for all the routes and modes and also ensure that you are well-connected with the stakeholders just in case of any last-minute change of plan.
Furthermore, working with the wrong carrier can also cause delays and hindrances in your supply chain operations. Therefore, freight forwarders must choose a reliable carrier partner, especially in the case of foreign shipments, to maintain full transparency and provide the exact time of cargo delivery.
Cargo Loss or Damages
Another major challenge facing the cargo industry is the loss or damage of goods during transit, causing a notable financial strain on shippers and freight forwarders. There can be one of numerous reasons behind that.
For instance, it could be due to a natural calamity like fire, floods, earthquakes, or tornadoes; it could be due to man-made disasters such as theft and vandalism; or it could be due to improper packaging or handling that could spill hazardous chemicals in the boxes or cause damage to goods.
Any kind of such damage can very badly impact the quality and quantity of commodities, resulting in customer complaints or returns. This is why they need to mitigate these risks, and for that, ensure all the goods are well packaged and labeled, pick a reliable transporter, follow all the safety measures, such as GPS tracking, and have adequate cargo insurance in case of any unfortunate event. 
Following all these will save the freight forwarders from the sheer feeling of customer dissatisfaction and also against any potential claims. Moreover, shippers should also do a full inspection before and after delivery to save themselves from any intentional discrepancies.
Rising Transportation Costs
The next serious concern for the cargo industry is rising fuel prices. The heydays of 2020 and inexpensive petroleum are now gone, with infrastructure such as airports, rail, and roads mostly vacant due to COVID-19. As the world learned how to accept the safety precautions put in place to resist the pandemic outbreak, fuel consumption increased in 2021, leading global fuel prices to rise.
Between 2021 and 2022, jet fuel grew at the fastest rate (43.8 percent), followed by on-highway diesel fuel and engine petrol (all sorts), which shot up by 39.8 and 31.8 percent, respectively.
Moreover, the additional hidden tariffs, foreign exchange rates, state and federal taxes, and market fluctuations have all made it difficult for transporters to deliver goods. And the result leads to more inefficiencies in supply chain management operations.
However, freight brokers can mitigate these hurdles and keep expenses in check by optimizing the travel course, streamlining the process in advance, adopting new fuel-efficient technologies, and doing regular maintenance checks.
Government and International Regulations
The fourth risk facing the cargo industry is the ever-changing government and international laws and regulations. While shipping within the nation or transporting cross-borders, there are certain ever-changing compliances, document procedures, and safety rules by the federal, state, or local authorities that must be adhered to by the shippers at any cost.
For instance, while shipping hazardous materials internationally, the U.S. government requires certain special permits and approvals due to health, safety, and property concerns. Moreover, while choosing different transportation modes, some laws demand U.S. flag carriers. Click here to acknowledge that.
Failing to follow these compliances can put freight forwarders in serious trouble, such as hefty penalties, the likelihood of seizing the cargo, or even the shipping license and contract, ultimately damaging their brand reputation.
To mitigate such risks and scenarios, the shippers must always stay up-to-date with the present laws and regulations of the destination country. Also, being in touch with current industry news will help them make proactive decisions and save them from any unforeseen legal problems.
Read the freight transportation guide of the U.S. government to learn more about everything in detail.
Environmental Issues
Another big challenge facing the cargo industry is environmental pollution. The entire transportation industry runs on burning fuels, most of which are diesel, causing the emission of a huge amount of harmful chemicals into the surroundings.
Moreover, unlikely encounters with wildlife species on the route, oil pollution by the shipping containers in the sea causing a threat to marine species, air pollution through the emission of fossil fuels – the cargo industry is unintentionally producing a large amount of environmental pollution, which is certainly not good for the living species. And because the size of the shipping industry is enormous, it is very challenging to keep tabs on the hazards it is causing to nature.
To mitigate such challenges, the U.S. and international governments have made some efforts in the form of treaties such as the Marine Pollution Treaty (which handles the pollution produced by ships) and more. However, the varying patterns of the international authorities make it challenging to implement it fully.
Furthermore, within America, the Environment team within the Office of Policy Development, Strategic Planning, and Performance operates on a wide range of energy-related and environmental concerns, overseeing DOT's approaches and with other agencies of the federal government in order to make sure that the environmental consequences of logistics policies are taken into account at all scales.
Piracy
The sixth challenging risk facing the cargo industry is not getting security against piracy. Apart from this, every day there are reports of cyberattacks, data breaches, and constant spying registered by the freight companies.
Organized thieves plant one of their employees in their targeted warehouses collect the necessary insider information, like CCTV or alarming cameras and security officials, and steal the cargo as soon as they are on their way to transit. They then resell the goods in the black market and earn a lot of money for themselves. Sometimes, this stealing escalated to the level of violence, which could actually become a threat to the driver's life.
Moreover, countries with corrupt politicians and law agencies are more susceptible to cargo theft, along with other heinous crimes. Nonetheless, all these serious crimes can take a toll on distributor confidentiality, safety, and the integrity of the entire logistics business.
Therefore, it is crucial to mitigate such risks. To deal with them, the logistics company ensures that they give their staff proper training on using the advanced technology system and guide them on best practices for securing data. They can also use encryption and authentication techniques in their transport vehicle; this will protect their data from being misused.
Labor Shortages
The adverse effect of the labor shortage on shipping and logistics is one of the next largest issues in the supply chain turmoil, ranging from an insufficient number of drivers in the rail and road sectors to a lack of staff at airports, seaports, and warehouses. Even though pandemic recovery appears to be in the air, the problem remains the same. The vast majority of drivers have remained in the profession for a long time and are either retiring or leaving the job.
According to the US Bureau of Labour Statistics report, the annual separation rate in the Trade, Transportation, and utilities business was 54.5% in 2022, down from 60.4% the previous year.
Freight forwarders are heavily dependent on this sector of the economy to transport cargo by sea, rail, and road. While short-haul operations and drayage transportation lessen the demand for long-haul tractor-trailers, there is still a significant driver shortage.
To mitigate the labor shortage challenges, freight forwarders can consider starting to recruit people with the bare minimum requirements, diversifying the pool to get more applicants, using social media channels to broadcast the process, optimizing onboarding to swiftly train the new staff, and integrating overtime shift incentives to boost their morale.
Technology Implementation
The rapid advancements in technology are driving all sectors of businesses, and freight forwarding is no longer the exception, which brings us to our next challenging risk facing the cargo industry. From self-driving distribution vehicles to drones, warehouse robots, cloud logistics, and advanced tracking systems, technology has been deeply integrated into the supply chain sector.
However, the fast pace of innovation advancements in the tech sector makes it difficult for the employees working in the shipping industry to fall into step, resulting in the delaying of the implementation into a standardized process.
To mitigate this issue, freight forwarders all around the globe need to spare some time and use it to teach their staff how to use them. However, the process is in progress, but there is still a long way to go.
Lack of communication with stakeholders
As a freight broker, it is easy to get overwhelmed with a bundle of paperwork and unanswered messages. Unless your equipment is entirely impermeable, losing a piece of crucial information once in a while seems unavoidable, which is another difficulty facing the cargo sector.
Nonetheless, regardless of how hectic your schedule is, you can't afford to lose a single customer just because of a lack of communication. Therefore, it is crucial to mitigate this issue.
For that, you need to set up a designated in-house team 24*7 that could handle all your paperwork and the lead queries and stakeholders. Although implementing this system correctly will take time,  it's always good to start from someplace.
The Best Risk Management Strategies to Mitigate Cargo Operational Challenges
The below-mentioned risk management strategies are tailored to address the aforementioned challenges faced by freight forwarders while making certain the business operations don't get disrupted.
Be cautious while engaging with a carrier
The primary step to mitigate cargo risks is to do a background check on the carrier before freight brokers take a step forward with them. To fully examine them, go through the following pointers:
Find out the number of years of experience of the carrier in this industry.
What is their business model? Do they have their own fleet of commercial vehicles or have they contracted with owner-operators?
Validate whether the staff under them are qualified and well-trained.
Check their drivers' past records. See if there is any previous accidental claim on them.
Examine their carrier facility (distribution center). Is it in good condition and safe for your cargo?
What is their reputation in the market? Try to have words with shippers who have previously worked with them.
Know the freight rates before closing the deal with the carriers.
Once the shippers have checked all the aforementioned boxes, the next step for them is to build a harmonious relationship with their carriers. This will save them from a lot of trouble related to cargo delays and disruptions.
Understand compliance with regulations
While shipping cargo within the United States or internationally, freight forwarders must adhere to the regulations. For that, they can get all the information from the official government websites and trading agents who are well aware of interstate, intrastate, and cross-border rules and regulations.
They need to understand what paperwork will be required, and it is crucial to check whether their documents contain all the essential information. In the event of any flaw, the shippers might find themselves paying massive penalty fines and could also be subject to considerable delay in their shipments.
Following are the much-needed documents, whether they are shipping cargo internationally or within states:
Waybill: the list of goods being transported by the vehicle.
Bill of lading: a legal document issued by the carrier consisting of a comprehensive list of hauling goods to the shipper.
A bill of sale is a document that makes the transfer of goods from one person or company to another customer.
Customs documents: an official document that contains the details of goods being imported or exported.
Health and safety certificates: this piece of paper is required if any hazardous cargo is being shipped.
Certificates of origin: this document states in which country the commodities have been manufactured.
Also, a couple of shipping services don't require paper in certain countries; for instance, Canada, the United States, and a vast area of Europe follow digital customs paperwork. However, that does not apply to all nations. So, this is another thing to factor in.
Apart from the paperwork, freight forwarders must adhere to the safety standards that could cause their shipment damage and disruptions.
Effective Communication
One of the crucial aspects of cargo risk mitigation strategies is establishing good communication with all the partners involved in the whole shipping process, including suppliers, carriers, customs agents, and clients. With the fluctuating market and the ever-changing guidelines, the entire logistics industry works on this one communication channel.
So, the freight forwarder must have ensured to follow the below pointers so that they can cut down on the additional costs:
Communicate with your carrier properly and ensure that they have the right and adequate details related to cargo delivery. This will save on unplanned distribution and transportation expenses.
Convey the right information and give a heads-up to the carrier staff when shipping hazardous materials so that they can take advanced measures in order to mitigate any unfortunate events.
Inform the importer beforehand so that they have their customs documents verified by the CHA (customs housing agent) officer on time.
Ensure that the insurance provider has all the important information regarding the shipping vessel name and number and a detailed commodity list so that, in case of any unforeseen damage, the financial losses are covered.
We understand that maintaining clear communication in the case of international transportation is different from domestic trade and can be challenging for obvious reasons (different time zones and cultural barriers). This is why it is crucial to keep in constant touch with the stakeholders and the foreign agents.
Implementation of Advanced Technology
For years, the cargo industry has remained unorganized, with piles of paperwork, no transparency to stakeholders, and countless inefficiencies during the whole process. But post-pandemic, the scenario started changing with digitalization and tech innovations becoming an integral part of every industry, and supply chain management is no longer the exception.
Now, there is cloud-based technology that can provide real-time insights and shipment updates; then, there is an ultra-track cargo tracking system through which clients can ensure the expected time and date of the delivery of their goods; then, there is a transportation management system (TMS) with the role of an in-built AI system that would help freight forwarders assess all the potential risks in real-time; and more. 
From digital camera-based devices that will acknowledge the condition of goods to 3D scanning and wearable robotics, there are a multitude of innumerable options that are helping businesses achieve their goals in a timely manner.
Incorporating this smart technology will assist cargo companies in reducing human errors in their day-to-day operations, and evaluating any potential threats in advance, thus helping them come up with contingency plans, better manage the shipping operations, and reduce the overall risks associated with the entire cargo shipping process.
Not only that, all these help cargo businesses save their brand reputation and gain a competitive edge in the market.
Conduct internal audits for safety reasons
Conducting an internal audit on a consistent basis is crucial for cargo risk management. At times, there are unwanted intruders in the company that can pose a threat to the cargo, or there are loopholes in the operational tasks that could hamper the overall productivity and take a toll on the brand's reputation. Either way, it is necessary for freight forwarders to go through the following checks for safety reasons:
Examine the detailed background check of the new recruits, including the company staff and the new carrier operators.
Maintain a list of all the transported goods and ensure that all the containers are sealed properly with their seal numbers.
[] Keep the important details like delivery time and date and carrier facility discrete so as to protect them from stealing.
Try to follow the straight routes if feasible.
In the case of hazardous commodities, instruct the carrier to do multiple checks during transit.
Always follow set pick-up and delivery rules to guarantee that only authorized drivers have the key to storage warehouses.
Following the above pointers will help freight companies find any potential threat or any loophole that will further aid in mitigating cargo risk management.
Have adequate cargo insurance
Regardless of taking all the preventive measures and implementing all the risk mitigation strategies, there are always chances of the cargo being damaged or lost. The reason could be anything from being stolen during transit to accidental damage or improper packaging.
The bottom line is that, in the end, all the financial strain is going to come on the shoulders of freight forwarders. That is too much at stake for the businesses.
Therefore, to mitigate this full and final cargo risk, we would advise shippers to have their cargo insured. This will save them from the constant worry of the safe shipment of their commodities.
Based on the type of cargo the company deals in, whether it is automobile, perishable, hazardous, or any other, they can contact any of the reliable insurance providers in the market. The insurer will tell you the type of coverage required based on the cargo being hauled.
If your organization transports goods using commercial trucks, you can get in touch with us here.
Want to insure your fleets? Get free truck insurance quote now.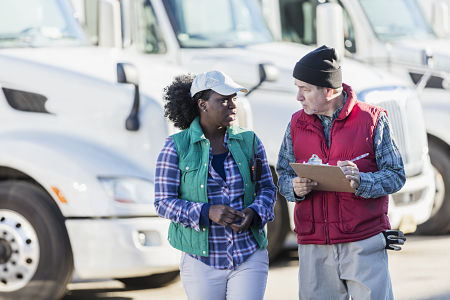 Always have a contingency plan ready
Even though you have everything set in place, there are unforeseen events that could disrupt the entire transportation process. Therefore, it is wise to always have a contingency or backup plan ready in store.
Following are the ways that will help the shippers in unavoidable situations:
Relying on a single carrier creates a mental dependency for the execution of your entire task, which may become a threat in situations where they cannot reach out to you or choose not to help you. So, always build a healthy relationship with multiple carriers.
The next step is to have knowledge of multiple routes. In any case, if the former route is not available due to natural or man-made disasters, the carrier could always opt for the alternate route. Resulting in no delay.
Last but not least, always have a backup storage facility in case of additional cargo or any disruption, such as heavy rain or bad light.
Key Takeaway
Freight forwarding is a risky industry and carries a significant potential for threats on an everyday basis that could severely impact the reputation of businesses. However, having a thorough understanding of the existing and unforeseen challenges and the methods of better managing them can help cargo companies mitigate those risks.
Above, we have highlighted the core challenges facing the cargo industry, which we would like to revise:
Slowdowns and interruptions in transit
Cargo loss or damages
Rising fuel costs
Ever-changing government and international trade regulations
Massive environmental issues
Piracy concerns
Shortage of labor
Not keeping up with the advantaged technologies
Lack of communication with carriers and stakeholders
Since the shipping industry is very sensitive to the transitional habitat, it is crucial for freight companies to start taking steps with risk management strategies. The risk mitigation approaches that we have listed above will not only help businesses deal with the present crisis but will also prepare them to survive their brand in an uncertain environment.
Furthermore, if you are new to the transportation industry, then check out this blog, What is a DOT Number? It will get you acquainted with the necessary carrier numbers required to operate across the states.
We hope you find this blog informative.
In case of any further doubts regarding transportation or cargo safety, you can drop your query in the comment section below. We will be more than glad to help you.